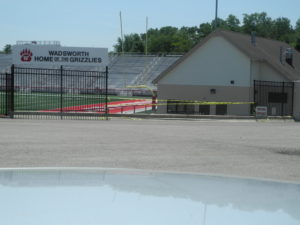 Friday night's storm that blew through the city of Wadsworth caused quite a bit of damage.
High winds took down a tree on High Street, between Downtown Wadsworth and Route 261. By Tuesday morning, the remainder of the tree was taken down and the trunk and branches were disposed of.
At Art Wright Stadium, winds collapsed part of the North goal post and damaged portions of the black fence at the North end of the field that surrounds the stands. Also, Electrical wires were ripped off the School District's bus Garage near Isham Elementary School by the strong winds.