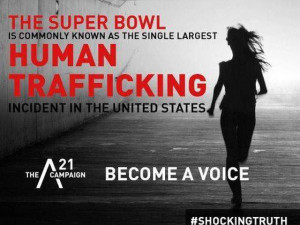 There's much more to the Super Bowl than the rivalries, food and beer, or the fact it's the most watched television show of the year.
The Super Bowl is "the single largest human trafficking incident in the U.S.," explains Texas Attorney General Greg Abbott.
Experts say huge sporting events like the Super Bowl are targets for sex traffickers because there are so many people, so many things happening, that traffickers and their victims become hidden in the crowds.
"It's not so much that you become a victim at the Super Bowl, but that many victims are brought in to be used for all the men at the Super Bowl," explained Stephanie Kilper, a representative for Operation Freedom Taskforce in Akron, an organization which aims to end the fastest growing criminal industry in the world.
A study by Traffick911, in conjunction with law enforcement, monitored the 2011 Super Bowl online escort ads. They found such ads increased steadily from 135 on a Saturday in mid-January to 367 on the Saturday before the Big Game.
Even worse, during the 2009 Super Bowl in Tampa, the Florida Commission Against Human Trafficking estimated that "tens of thousands of women and minors" were trafficked in the Miami area, according to reports. One human trafficker was arrested and jailed for selling a 14 and 18-year-old for $300 as "a Super Bowl special."
While conversations about human trafficking escalate around Super Bowl Sunday, the evil practice happens every single day in nearly every city and town across the country, including northeast Ohio: Mansfield, Toledo, Cleveland, to name a few. According to Polaris, a non-profit organization recognized as the global leader in the fight against this modern day slavery, tens of thousands of women, girls, and boys are trafficked each year in the United States, with millions more falling victim worldwide.
Over the years, sex trafficking transactions made through online sites and advertisements have increased. Now, predators can browse websites and have child prostitutes sent to their hotel rooms or homes as easily as ordering pizza.
In May, for the first time in 13 years, Congress passed, and the President signed, legislation to address human trafficking.  The laws passed increase penalties for predators and provide resources for law enforcement to better investigate sex crime rings and also allow them to prosecute those who knowingly profit from online advertisements that exploit the victims of sex trafficking.  Most importantly, the new law increases the identification of victims and provides support for survivors as they heal and rebuild their lives.
You can help combat human trafficking:
– Raise your awareness and educate others
– Organize to help. If you're particularly motivated, consider hosting an event or starting a group to fight against trafficking in your community
– Write editorials, letters to the editor, blog; write to your area politicians
– Volunteer to help organizations that are working to end sex trafficking
– Advocate for stronger laws. Find out what your elected representatives are doing to end trafficking and how you can help
– Report suspected incidents of trafficking by calling the National Human Trafficking Resource Center at 1-888-373-7888. This hotline is not only to report suspected trafficking, but to get help if you have been a human trafficking victim
Operation Freedom Taskforce exists to fight human trafficking in all its forms through awareness, prayer, and fundraising. The organization believes in order to fight the problem, people must first know there is one. You can email OFT with questions:
operationfreedomtaskforcecfmc@gmail.com.