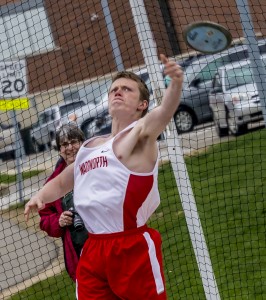 The Wadsworth Boys track team will be sending at least two athletes to the OHSAA State Meet in Columbus next week.
Nate Bergen and Danny Malkowski will be heading to the State Meet in the Discus and the Pole Vault. Nate had a personal best discus throw of 158-feet, 9 inches in the Division One Regional Meet on Wednesday at Austintown-Fitch High School. That toss was good enough for third place. The top four finishers in each event qualify for Columbus.
Wadsworth's second qualifier for the state meet came about through a very unusual situation. Grizzlie Pole Vaulters Malkowski and Justin Pollito finished the regular portion of the meet in a fourth-place tie with a leap of 13-feet.
To resolve that tie, Wadsworth teammates would have a 'jump-off' against each other for a trip to the state meet. Malkowski went first and cleared 13-feet. Pallito followed and missed on his attempt.
After the first day of competition, The Wadsworth Boys track team was in third place with 15 points. Stow was first with 19 points. Fitch High School was second with 18 points.
The Wadsworth Girls track team finished the first day of competition with 2 points. That total was good enough for a tie for 14th place.
Wadsworth freshman Tianna McCormack finished seventh in the girls' high jump accounting for the Lady Grizzlies points.
The Regional Track Meet will continue on Friday at Austintown Fitch High School.