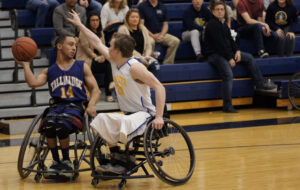 The Wadsworth School District will have a third basketball team playing at the varsity level this year. There will be a boys team and a girls team — and now a wheelchair basketball team!
Superintendent Dr. Andy Hill will recommend approval of a memorandum of understanding with the Wadsworth Education Association to pay for a head coach and an assistant.
With support of the Ohio Legislature in 2015, Adaptive Sports Ohio launched the first interscholastic wheelchair basketball team in Ohio. Adaptive Sports Ohio is working to expand and increase the number of school districts participating in the wheelchair basketball league.
Currently, there are seven Ohio school teams in the wheelchair basketball league: Tallmadge, Beavercreek, Wooster, Jackson, GlenOak, Austintown and Massillon.