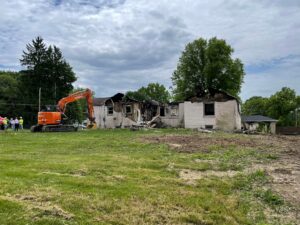 Over the last 30 years, the Wadsworth community has seen a steady increase in population, over 23,000 people, and a poverty rate of 7%. During this growth timeframe, The Salvation Army in Wadsworth, located at 527 College St in Wadsworth, has maintained its humble 5,216 square foot facility to serve the community. However, the building now is over capacity, with virtually no space available for any of the Wadsworth Salvation Army's growing services.
"Today is the first step towards building a better Wadsworth. The razing of the two uninhabited houses will allow us to build new spaces to serve Wadsworth efficiently. We will have a new onsite Learning Center for children after-school, space to expand our kitchen, community room, food service areas, and increased parking," stated Major Tara Harrison, Corps Officer for The Salvation Army in Wadsworth.
The new facility will double the size of the current facility to 12,214 square feet. It will provide optimal space for onsite programs, new activities, and storage needs. The Salvation Army in Wadsworth is currently in the final stages of raising 25% of its $3M goal.
"This campaign and the success for the future of The Salvation Army in Wadsworth is thanks to our Wadsworth community. We appreciate the tremendous support from our donors and those throughout the area. Our commitment is to serve all who struggle physically, emotionally, and spiritually needs. We look forward to being part of the Wadsworth community for another 30+ years," continued Harrison.
For more information on The Salvation Army in Wadsworth or to make a donation, contact The Salvation Army at 330.335.2327 or visit www.SalvationArmyOhio.org.