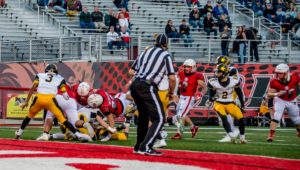 The Wadsworth Grizzlies scored on two long runs in the second quarter as they defeated Cuyahoga Falls 42-0 at Art Wright Stadium.
Wadsworth Senior running back Brock Snowball scored two touchdowns in the first half. on a two-yard run in the first quarter and on a 95-yard run in the second period.
Dom Loparo scored on an 80-yard run in the second quarter to give te Grizzlies a 21-0 lead at halftime.
In the third period, Loparo scored on a three-yard run, quarterback Trey Shaffer hooked up with Carson Risher on a 27 yard strike and Robbie Lynn returned an intercepted pass for the final touchdown in the fourth quarter.
Wadsworth is now 3-0 in the Suburban League and 6-0 overall. Cuyahoga Falls is 1-5 overall and 1-2 in the Suburban League.
The Grizzlies play North Royalton next Friday Night at Art Wright Stadium.