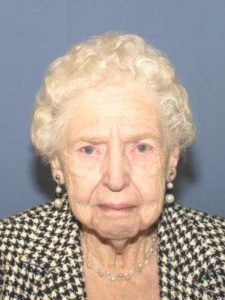 The 17-year-old Wadsworth High School student accused of killing 98-year-old Margaret Douglas has pleaded not guilty to charges of aggravated murder, murder, burglary and abuse of a corpse.
Prosecutors still have not officially identified the 17-year-old but said they do plan to eventually try him as an adult. The teen's next hearing is May 3.
According to court records, Margaret Douglas, 98, was dead for three days before her body was found concealed in a closet in her Portage Street home.  She was reported missing by an out of town relative on April 9 and found dead during a second search of her home later that same day.
The autopsy report is pending but officials have said it appears she was strangled.
The teen was arrested on April 16 in Fairview park and transferred back to Medina County that afternoon.
PREVIOUS WADSWORTH COMMUNITY RADIO COVERAGE:
Wadsworth teen arrested in connection to murder of 98-year-old Margaret Douglas
Body of missing 98-year-old Wadsworth woman Margaret Douglas found in hidden location