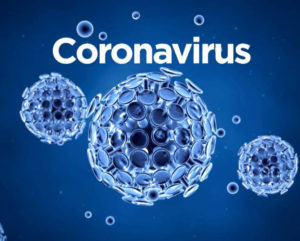 Before we dive into all the details of a post we created/shared March 26 on our Facebook page out of concern from listeners, we want to be crystal clear that being accurate is of utmost importance to us at Wadsworth Community Radio — above all else. We cite our sources and keep pertinent email exchanges.
Secondly, we value, and are beyond grateful for, the Medina County Health Department and their expertise/guidance when they have a constant heavy workload. They strive to answer every media inquiry in an accurate and timely manner, while performing their necessary and valued job responsibilities. Somewhere along the way with this story, there was a misunderstanding/ miscommunication that we have now sorted out and are sharing with you.
A social media post that has been circulating for a few days (pictured below) went viral after warning parents that if their child was hospitalized with COVID-19 they would not be allowed to stay with them in the hospital. We had people reach out to us asking if that was true so we asked the Medina County Health Department on March 26.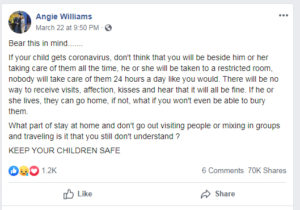 My original emailed question in the early morning of March 26 to health commissioner Krista Wasowski was: "I've seen things circulating on friends social media accounts that if a child contracts COVID-19 that NO ONE (ie: even a parent) is allowed to stay with them in the hospital. That can't be true?
The health commissioner's reply was: "You are correct that parents are not allowed in the hospital.  If the child is ill those parents are under automatic quarantine and not able to leave their home.  And you are also correct that visitors of any kind are not allowed."
After we shared the Angie Williams Facebook post (the post that we were asked about on numerous occasions for its accuracy) – attaching our Medina County Health Department update, the feedback began. One listener/follower (Amanda R.) posted – then later deleted her comment: "This is NOT true. I work for a local hospital, and 1 visitor is allowed for pediatric patients. Please stop spreading this lie."
Wadsworth Community Radio again reached out to Medina County Health Department commissioner, Krista Wasowski, to fact-check that piece of information. Wasowski's email reply at 8:29 a.m. read:
"They would allow one visitor for general pediatric reasons, but not for COVID.  She is wrong. A family member or friend who is not from that household would be able to visit, if that fits the hospital guidelines, but not someone from the immediate household."
Around the same time, we received this note from a nurse that read: "UH is allowing a parent to stay, but once you decide to stay you cannot leave the room. All meals etc. will be delivered to you."
For a third time, we reached out to a very busy Medina County Health Department asking for clarification about who can/can't visit a child who is hospitalized from COVID-19 and if the COVID-19 protocol is hospital-specific or if it is a statewide protocol. At 3:01 p.m., we received this email reply, that read in part our post had something "wrong":
"They can have a visitor, it just wouldn't be someone who is under quarantine orders. Can you please correct this?"
That, along with a reply from Akron Children's Hospital at 3:27 p.m. on March 26, prompted our decision to let every person who commented on our original post know we would soon be deleting the original post to create this updated/clarified version and re-post so there is no confusion, only certainty.
Here is the verbatim from Akron Children's Hospital's senior corporate communications specialist:
"We can't speak for any policies regarding public health agencies or statewide policies – I would refer you to OHD for that – but here's a statement from our chief medical officer regarding any patients hospitalized at Akron Children's.
"Akron Children's Hospital will follow the Ohio Hospital Association's guidelines for visitors," said Dr. Rob McGregor, chief medical officer for Akron Children's. "Patients with a positive COVID-19 diagnosis will be permitted two designated parents/guardians per hospitalization who are essential to the child's emotional wellbeing and care."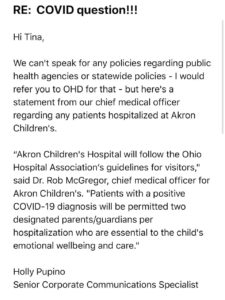 During our March 27 interview, Medina County Health Commissioner Krista Wasowski started off by saying: "I need to apologize to Tina. She posed a set of questions to me yesterday and I answered them from my public health perspective, and actually I should have referred you to all of the various local hospitals to see what their policies are right now because I certainly don't want to misinform anyone and I don't want you to feel like you misinformed anyone."
I know I feel more at ease knowing this information. We hope you do, too. Thank you for your comments and for your patience as we worked diligently all day to bring you the most accurate information in this unprecedented and ever-changing pandemic. It is always our goal to serve our local community well. We sincerely apologize for any confusion and hope this clarifies all of your questions. Stay well and stay home!