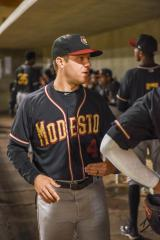 Wadsworthian Drew Saylor is about to become a new member of the Wadsworth Athletic Hall of Fame for his exploits on the baseball diamond for the Grizzlies.
There are a number of all-time record that Drew holds at WHS. Among them, Most runs scored, most hits, most RBIs and most walks
Drew has been able to parlay that experience on the field to being a coach in the Colorado Rockies organization. This year, Drew was assigned to the Modesto Nuts of the Class-A California League.
While many look at him as a Minor League baseball coach, Drew sees himself as a teacher with a baseball field as his classroom.
"You're doing the bare basics of what teaching is" said Drew. "You're taking an idea out of your head and convey that knowledge to a pupil and that pupil has to put that idea into practice. There's not a difference in how I teach, the way that I teach changes with players. Some players speak Spanish, I have to speak Spanish. Some players are visual learners, I have to do that show them what to do".
Drew played for the Grizzlies for all 4 years he was in high school. He was a two-time Gazette Player of the year. Played college baseball at Cincinnati and Kent State. He was taken by the Flordia Marlins in the 13th round of thre 2006 Major League Player Draft and spent five years in the Minors.
"This community means so much to me", Saylor said. "I met my wife here. My closest and dearest friends are here, Andy Sonnanstine, David Waters, Billy Adams, Justin Otanikar. Being selected for the Hall of Fame is very humbling".
Drew makes his off-season home in Montville Township. His mom and dad still call Wadsworth home.
Among his coaching, influences were Coach Goddard and the Grizzly Assistant Baseball Coaches. Drew says "Coach Goddard believed in me from the very beginning. I can't thank him enough. He taught me to have faith in others and to trust".
Drew Saylor, our latest Wadsworthian Wednesday Guest".