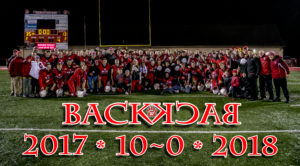 Wadsworth linebacker Mason McMillen has been named as Co-Defensive Player of the Year in Division Two when the All-Northeast Inland team was announced by the Ohio High School Athletic Association and the Ohio Prep Sportswriters Association.
Joining Mason on the first team were teammates linebacker Jack Grice and defensive back Alec Miller.
Wadsworth players being named to the All-Northeast Inland second team were quarterback Trey Shaffer, running backs Brock Snowball and Dom Loparo, defensive back Jack Herbert and wide receiver Carson Risher.
Named honorable mention were defensive back Brett Randolph and offensive linemen Logan Egleston and Matt Gabel.
Congratulations to all.