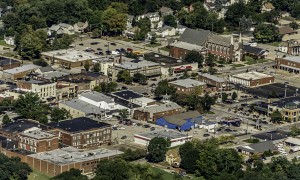 The first "First Friday" of 2020 takes place in downtown Wadsworth on Friday, January 3. The theme for the month of January is Aloha! Winter Tropical Luau! First Friday takes place in downtown 5:00-9:00 p.m.! A number of Businesses will be caught up in the spirit of First Friday.
ToastHeads Micro Bakery – Tropical Oatmeal Cookies will be back (a wonderful combo of Pineapple, Coconut, Vanilla Chips and Oatmeal) Plus a few other topical delights…and, as always, Salted Caramel and Milk Chocolate Chip !!!
The Sub Station – Live music from 6-8:30pm by 1990 Something!! Come warm up with our Adult Luau drink for $5, pizza by the slice for $2, try out new ⅓ pound burgers on round bun for $5!! Free Hawaiian Leis for the kids!!
Main Street Wadsworth's table will be inside of MC Real Estate selling t-shirts for $12 each. Become a 2020 "Friend of Main Street Wadsworth" member for $25 to support our downtown revitalization and receive a free Wadsworth coffee table book!
Opal Dragonfly Boutique – Stop in and do some 'Flamingo-ling' with your favorite Dragonfly ladies! Kiddos can pick a treasure from our tropical themed treasure chest. Shoppers can enjoy some of Terri's chocolate covered Pineapple (and possibly other fruits).
Wadsworth Public Library – Experience an interactive Hawaiian dance performance and demonstration with Manivic's Dance Company! Dancers will be on hand from 6-7pm. Read with a therapy dog until 7pm. Crafts & activities will be available until 9pm.
The Fabric Peddler – Open until 8pm, sweet treat offering…..chocolate dipped grapes!
Wadsworth Music – Bring in your ukulele and join us in a ukulele jam session. We will also be serving warm tropical punch!