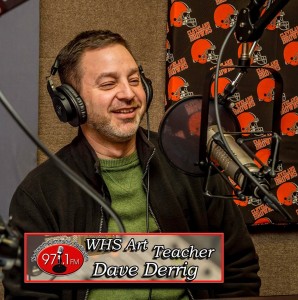 Art is all Wadsworth High School teacher Dave Derrig knows. He's been teaching in Wadsworth since the early 1990s.
"Wadsworth was my first full-time job and I've been here the whole time," Derrig said. "I couldn't teach anything else. Art is the only thing I know."
Derrig is a professional artist who specializes in working with clay.
"I do a lot of ceramic work, along with drawing and painting," he told Matt and Tina in the Morning during the Terrific Teacher feature segment.
Derrig enjoys his variety of students, those who love art and those just dabbling. "We have students who excel in everything including art and those who could just live in the art room all day long."
Some advice Derrig wanted to share with anyone thinking about pursuing art as a hobby or career: You don't have to be a great artist, just be willing to try your best and be willing to make mistakes."
He praised art at the elementary level for helping shape children into confident artists.
To Derrig, Wadsworth will always be home. "This is definitely the community I plan to grow old in and live in the rest of my life."
We wish you all the best, Dave, and we know you will continue to inspire students to create in their own creative way!
-Tina