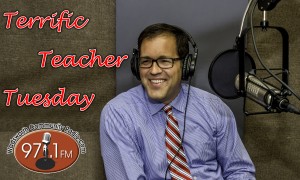 American and European literature are two favorites to read and teach in the Wadsworth High School English classroom of Mark Schoonover.
"When American Literature comes into its own and you see Americans have a voice, that's when literature takes off, in my opinion, when it becomes really enjoyable, and the kids really enjoy it a lot then too," explained Schoonover.
He continued to talk about how writings of the past still impact us today.
"The ideas behind the literature is the connection that's being presented. Everybody today faces moral dilemmas and identity crises and you look at the literature from that perspective and make that connection."
That's where Schoonover comes in to make that parallel. To him, it's important to discuss the material read and apply it to real life.
"When Huckleberry Finn has to make decisions about his moral identity, are you going to follow your heart or the crowd, that message is still relevant today," Schoonover explained. You see it with the decisions teenagers make on an almost daily basis.
English isn't the only thing Schoonover enjoys. He also serves as "Academic Challenge" advisor. The game show is taped inside the NewsChannel5 studios. The episodes featuring Wadsworth will begin airing soon. Because of a signed confidentiality agreement, Schoonover couldn't say how the team finished.
Thanks for stopping by our studio and chatting with us about your passions! It was a pleasure meeting you, Mark! -Matt&Tina