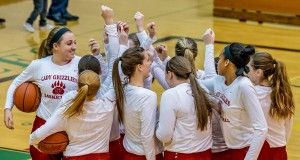 It's all on the line for the Lady Grizzlies Tuesday night. Wadsworth takes on North Royalton at Strongsville High School for the Div. I Regional Semifinals.
Tipoff is set for 7 p.m.
The North Royalton Bears are ranked 11th in the state by the Associated Press. Wadsworth's record coming into the game is 22-3; North Royalton's record is 25-1.
All of Wadsworth's losses this season have come against teams that were ranked in the AP Top 15.
This is the fifth consecutive season that Wadsworth has made it to the regional round. It's the first time in a number of years for North Royalton.
Go Grizzlies!!!