The Wadsworth Grizzlies were held to their lowest point total of the season, but it was still enough to defeat Tri-Valley 13-3 in the Division 2, Region 7 semi-finals in the OHSAA Tournament.
The Grizzlies next opponent will be the Massillon Tigers as they defeated Columbus Whitehall 35-17.
Wadsworth had a hard time getting the offense going in the first half as penalties and missed opportunities slowed the team down. The best chance to score in the first half was a field goal attempt by Blake Turano with less than a minute to go. But the 31-yard attempt came up short.
Tri-Valley's only points came in the first quarter on a 24-yard field goal by Kayden Bay with 7:30 to go. Wadsworth finally took the lead with 49 seconds remaining in the third quarter on a 5-yard run by Mason McMillen. The extra point was missed. At the end of three Wadsworth had a 6-3 lead.
The Grizzlies put the game away with 4:35 remaining in the fourth quarter on a 5-yard touchdown pass, on fourth down, from junior quarterback Trey Shaffer to wide receiver Ty Montgomery. Turano's extra point was good to make the score 13-3.
Tri-Valley moved the ball down the field following the kickoff, but fumbled at the Grizzly 5-yard line. McMillen recovered for Wadsworth and that was the game.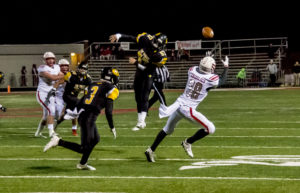 The Grizzlies are now 12-0. Tri-Valley ends the season at 10-2.