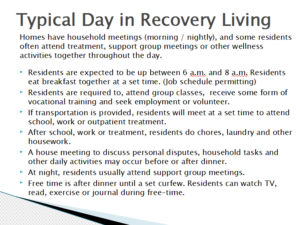 We have seen a lot of conversation about Francis House, a Sober Living House for nine men and five women, coming to Wadsworth and thought we would post the most accurate information available about it.
There seems to be a near majority belief recovery housing is necessary and a good thing for men and women actively recovering and trying to start new lives. The hangup seems to be the location of the Sober Living Home on North Lyman Street near sidewalks where students walk to a trio of schools.
"We are up against some stiff 'Not In My Backyard' resistance, primarily because of the fear and stigma of those in recovery," Costanzo explained.
Among many other things, those in the group home will have to work to pay their rent, will have a schedule including attending group classes, house meetings and more. The night will consist of support group meetings and includes a curfew. You can see the attached story photo "Typical Day In Recovery Living" for more details.
You can also click HERE for a .PDF link to the 23-page PowerPoint presentation Costanzo reviewed with the Wadsworth Public School District and Sacred Heart School.
Francis House is having their final Planning Commission Hearing on Aug. 26 at 7 p.m. at Wadsworth City Hall.
"We received unanimous approval from the Board of Zoning Appeals (BZA) to grant a few operating variances we needed to proceed," said Santo Costanzo, the organization's founder.
On Monday, the Planning Commission will vote to grant Francis House a "Conditional Use Permit" to operate as a group home.
Our hope in sharing this is that it will provide you with first-hand information and answer a majority of the questions we've been seeing about how the recovery home will operate, along with expectations and schedules for those in the home.
**Note: Any combative, inflammatory, or argumentative comments from any perspective will be deleted.**