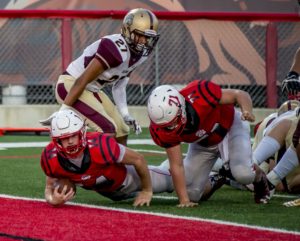 The Wadsworth Grizzlies jumped two spots to number seven in this week's Ohio High School Athletic Association's Football Computer Poll in Division II Region 6. The jump came following a 56-23 victory over Stow-Munroe Falls this past Friday Night at Art Wright Stadium. Stow is in Division One, Region One.
In the initial computer poll, two weeks ago, Wadsworth was ranked 12th. Last week, following a win against Nordonia, Wadsworth moved up to 9th place. The top eight teams in a Region qualify for the State playoffs.
This week, the Grizzlies travel to Cuyahoga Falls to take on the Black Tigers. Wadsworth has a record of 2-1 in the Suburban League and 4-2 overall.