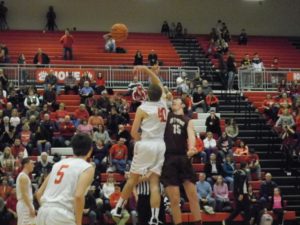 The Wadsworth Grizzlies kept their hopes of a Suburban League National Conference Championship alive by beating the Stow Bulldogs 53-41 at Wadsworth High School Gym Friday night.
With the win, Wadsworth improves to 6-2 in the conference and 10-4 overall. Stow is 7-1 in the National Conference and 9-4 overall. There are six games left to play in the National Conference.
The Grizzlies showed the rust of not having played in 9 days by starting slowly leading 8-7 after the first quarter. The Bulldogs found their shooting stroke in the second quarter, while Wadsworth continued to struggle. Stow had a 21-16 lead at halftime.
As they have done for a majority of the season, the Grizzlies turned the game around in the third quarter by stepping up the pace of the game and playing some tough defense. Jack Simmons had 8 points in the third period and Christian Szalay had 7 as Wadsworth took a 31-27 lead at the end of the quarter.
In the fourth quarter, the Grizzlies outscored the Bulldogs 22-14. Down the stretch, Wadsworth hit 7 of 9 free throws.
Leading scorers for Wadsworth were Szalay with 15 and Jake Justice with 10.
The next action for the Grizzlies will be this coming Tuesday night when they go on the road to play the Cuyahoga Falls Black Tigers.