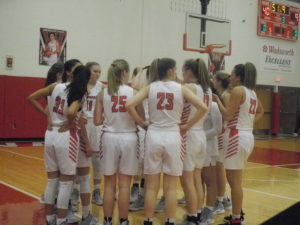 The Wadsworth Lady Grizzlies bounced back from the loss to State-ranked Newark to trounce the Cuyahoga Falls Black Tigers 71-36 at the Wadsworth High School gym on Wednesday night.
With the win, Wadsworth is 9-0 in the Suburban League's National Conference and 13-3 overall.
The Lady Grizzlies took an 18-4 led at the end of the first quarter and increased it to 34-12 at halftime Wadsworth extended the lead to 27 points at the end of the third quarter before winning by the 35-point margin.
The Lady Grizzlies had four players in double-figures, led by senior Kacie Evans with 18 points. Taylor Leatherman and E'Anna Won added 11 points apiece and Maria Busson has 10.
Wadsworth's defense did a great job controlling Chelsea Huffman of Cuyahoga Falls. Huffman came into the game averaging 30.3 points in her last four games. Huffman scored only 18 points against Wadsworth.