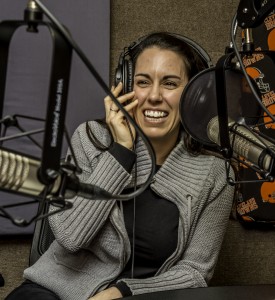 Megan Smith loves math and is eager to help her students less interested in the subject add a way to make learning math more fun.
An 8th grade teacher at Wadsworth Middle School, Megan loves algebra, geometry and everything in between. Her goal is to teach in a variety of ways as she understands not every student learns the same way.
New to her classroom this year is integrating smartphone use. At first, it was something she wasn't sure how to incorporate, but now she's really enjoying having that added option.
"If we are doing an equation or trying to solve a problem and the kids aren't understanding it, I'll have them take a few minutes to Google it."
Just as technology has changed, so has her teaching style. When she first began to teach, she didn't have a family of her own and spent much of her time just making lesson plans and giving homework.
"Now, as a mom, I'm mindful of how much (homework) I give. Less is more when it comes to homework. The important thing is that the students understand what they're doing, not how much they're doing."
Megan is your "yes" teacher. She wants to be a part of every committee where she's needed in the district and help make decisions that affect her classroom. She also helps any student she can by giving her time before and after class. Her love for her students and career also calculates into a deep love for her community. Megan was born and raised in Wadsworth, and is raising her children here too.
"I love the heart this community has," Megan said on the Matt and Tina in the Morning show on a Terrific Teacher Tuesday segment. "This place is so full of school pride and boasts a great family atmosphere. Everyone is helpful. I could get teary-eyed talking about the heart this city has."
Your energy is contagious, Megan! Thanks for your hard work in the classroom — and for making time for us in the studio. We also hope your elevator ride wasn't too scary! -Matt&Tina