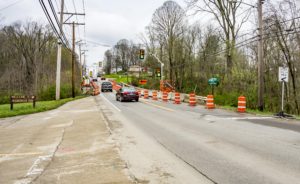 Wadsworth City Officials are looking for an October completion of the College Street Culvert construction project located between Trease and Leatherman Roads. College Street has been closed since August 21st when Wadsworth city engineers noticed that the pavement was coming apart.
When construction begins, it is anticipated that the project will take 45 days to complete.
The 100-foot long culvert will be delivered in sections. Contractors will open that section of the culvert over Holmesbrook Creek and replace it. The original culvert has spanned the Creek for nearly 125 years.
The project cost is not to exceed $718,000. The city of Wadsworth will receive state and local funding to pay for the project.